OK, Boy Scouts...

Well, I got home this evening...and I do mean evening (long day), and felt like I needed a wind down something. Soooo...

I decided to go ahead and plaster in the rest of the foam that's showing. This way when the Prez comes over this weekend we can maybe work on getting a little rock-face and dirt down.

Here's what we've got so far...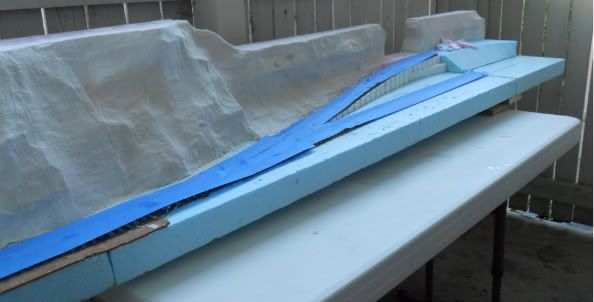 This shot shows where the demolition crew blasted the foam back from the track area. This is where the tipple will be built.





Pictures are a sure-fire way to see all your mistakes. Right now this just looks like a bunch of foam covered with plaster toweling. Pretty static stuff. So I'll be praying to the gods of narrow gauge for the inspiration to turn this into something spectacular.

I mean, when I set this section out on the lawn at sunset I want to se the painted desert...Oooooh...pretty colors!!

Yeah...I need to go take my meds...


Last edited on Wed May 5th, 2010 04:17 am by Sullivan



____________________
James Sullivan
Move along...nothing to see here...