Shoulders
Well I know at the beginning after doing EM gauge, that I just wanted to keep the modelling simple to build and all off the shelve ready to run, kits and peco track and I know I converted a peco set track curved point that was pretty simple to do in the end.

I wanted another siding but could the points in to were I wanted it or with out turning another siding into a head shunt so I ended up making a cross over with one route straight and the other on a 3rd radius (peco) to go from the main line across the passing loop to the front of the layout on the right hand side.

The track was already laid out in the original formation so I but a sheet of A3 over the top and the split a pencil in half and stencilled the track work onto the paper. carefully I removed to section of track (3rd radius) and main line. Then but the point in and and straight section that would cross the 3rd radius piece.

I then had my track work plane which I could doon my work bench of the crossover. Then I stuck down the pcb sleepers, cut and filed the track pieces, then soldered them into place.

Here are some pictures that may make what Im saying a bit easier to understand.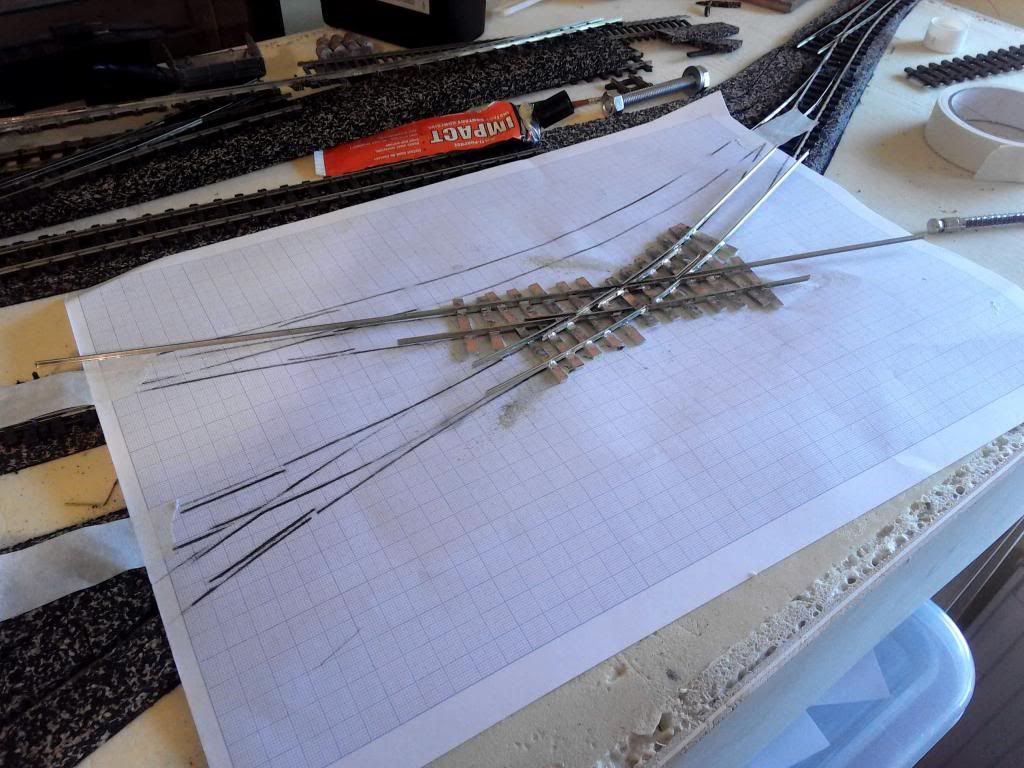 Sorry don't know how to explain this all simply with out boring people




____________________
Daniel
http://www.freerails.com/view_topic.php?id=6667&forum_id=6
http://www.freerails.com/view_topic.php?id=5794&forum_id=4
My Club-http://www.ehmrc.org.uk/about.html
Our Club Exhibition-http://www.ehmrc.org.uk/exhibs.html