Bill Fornshell
pipopak wrote:
Excellent set of DETAILED plans, probably good to build a prototype piece-by-piece at:
http://modelengineeringwebsite.com/Donegal_Railbus_4.html
Jose.


That is a very nice set of drawings. Backwoods Miniatures made a kit for the County Donegal #4 Railbus in 009/00n3 that could be made to run on 9mm or 12 mm track. The size is more or less like our HOn30 models.

1.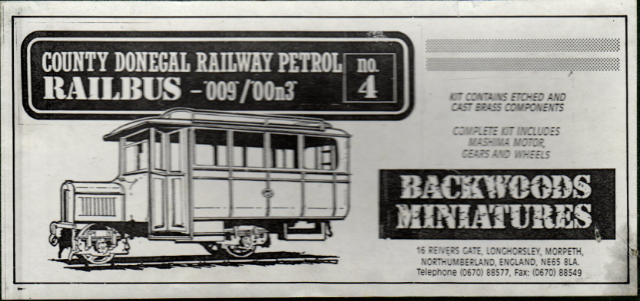 I have several of this kit which I believe is now out of production. This one was made to run on 9mm track and is about finished:

2.



3.



It runs OK but needs more weight. I hooked up one of my Stanton RC Systems to it to see if that improved the running performance. Yes, that helped a lot so now all I need to do is figure out how to hide the RC Receiver and small Team Lois Battery. If you look close you can see the gray and orange wires that go from the the RC Receiver to the motor.