W C Greene
In the chats on Sunday night, I have mentioned the "cricket blower" used on the Mogollon Railway. This unusual piece of ?? is infrequently used to blow crickets and grasshoppers off the rails during their "season". THIS IS TRUE: Many years ago, the Bartlett & Western-a Central Texas short line-had to stop operations for several days each year due to the hoards of said critters which ate crops and generally made a mess of things. The locos would slip on the "cricket goo" after rolling over the bugs and it is said that sand on the rails made things even worse. I thought that if the B&W had what the MRy has, they might have been able to run even during the infestation. Well, here it is..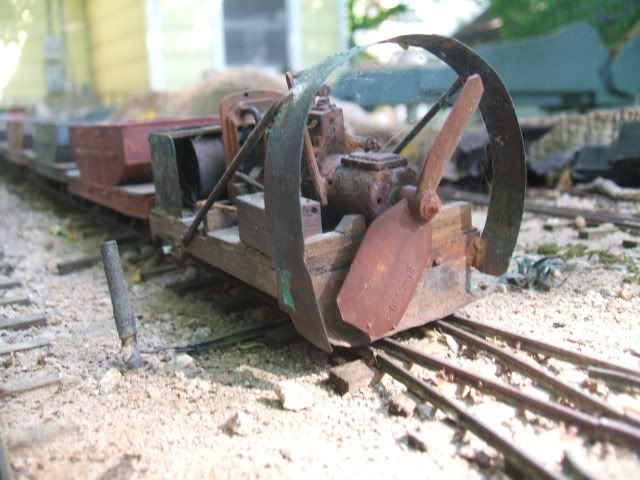 This 4 wheel car has a Ford motor and transmission driving a dangerous metal propellor. The shroud around the prop was added for "safety reasons". Needless to say, the crew gives this thing a wide berth when it is out on the line. The unpowered car is pushed ahead of a slow going locomotive.




The side view shows how she looks. This thing does actually operate, the prop is thrown by a tiny electric motor from a r/c helicopter and there is an even smaller motor inside the crankcase which runs the radiator fan. The "tender" holds a small 3 volt camera battery and the on/off switch is seen behind the diagonal strut-under the frame. Tiny ants (in 1:35 scale they are big old devils) can be blown off the track, of course they tend to hit the operator (me) causing much concern.

To those who wanted to see this, be careful of what you want.

Woodrow and Peach Head




____________________
It doesn't matter if you win or lose, its' how you rig the game.