Bill Fornshell
madmike3434 wrote:
surprisingly not a lot of member chatter on the RC yahoo group for 116 members.

mike


Hi Mike,

I hate to even think this and I hate even more to say it but maybe they are all out shopping for their Easter Parade Thongs.

Now back to RC:

I don't think you can tell from the picture but the bottom cover on the new Stanton Drive is also a small circuit board. This is very clever. Neil Stanton designed this motor and after reading the first two parts of his Radio Control magazine article I am not surprised. His skill level is "rocket to the moon" type attention to detail.

7.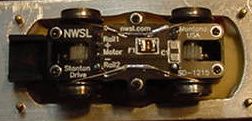 The drive unit is DCC ready and has solder contact points on the small board. My motor came with a 4 page set of instructions explaining all the different ways to set this up. Being DCC ready also means Radio Control ready although I seemed to have missed that part of the instructions.

8.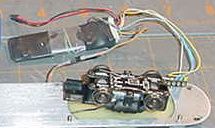 The wipers are soldered to the board and press against the inside of the wheels. For Radio Control models I would remove the wipers, bend them back or cut off the ends that touch the back of the wheels.

The drive has a small motor that sets between the axles. The axles have a small gear that mesh with a small gear on each end of the motor shaft. This is covered by the bottom cover so I can't see what type of gear is used. You can see the gears on the axles in the picture. I really want to take one of these apart.

The new motor continues run really nice and I have removed both stock motors from my PSC 70 Foot McKeens. They had started sending an "overload" message. Since I have two more of the Stanton Drives on order I will replace both PSC stock motors with the new NWSL Stanton Drives.