Joseph Lavender
| | |
| --- | --- |
| Joined: | Tue Nov 26th, 2019 |
| Location: | USA |
| Posts: | 34 |
| Status: | Offline |

Greetings!

I'd mentioned this project a while back in my thread on my Nn3 D&RGW layout,
and I thought it was time to give you folks an update.

It'd taken a few months to get everything together,
and to build up some inspiration.

I'm primarily a ship modeler, and those projects take some time,
and while I'm knee-deep in building the battleship HMS Ramillies,
I figured doubling up on the projects wouldn't hurt anything.


The concept for the layout is a shadow box style mini-layout,
featuring the tight curves of the SCPA&M, measuring about 8" deep and 20" across.

The wood has been cut, the box assembled, glass has been cut, not yet installed.
Currently I'm deciding on how I want to build the electrical and sound systems.
Of course we have to have sound!


I'm scratch-building the equipment, and the locomotive will be Shay #2,
since I was able to find good drawings of that particular unit.

I've had to extrapolate some of the details,
as the plans and the photos aren't always similar.
I'm sure you'll forgive me.

The locomotive is nearly finished.
I need to install the roof, and finish detailing the top of the boiler,
then it's off to the paint shop.


Of course this is a non-working Shay.
The power will come from a powered boxcar.

Sadly no photos of the boxcar the SCPA&M had seem to exist, which is very good for me,
as it will have to be ever so slightly longer than what the prototype probably was,
to accommodate the gear train and motor.

The boxcar must be 35mm long or 25'.
Sadly I just can't get around this, because if I could shorten it I certainly would.
This is my one big sacrifice and I'm sure I'm more bothered about it than any of you are!
Tell me it'll be okay!


The ore cars will be to scale thankfully,
and I need to mention my friend Jesse over at CCE Models,
for drawing out and 3D-printing my 2' gauge arch-bar trucks.

I had originally built a prototype from scratch,
but it was far too fragile even though it looked the part.
They would have failed quickly I'm sure.

Jesse was able to replicate the trucks exactly how I wanted,
and through his wizardry, I'll have the train standing tall in that regard.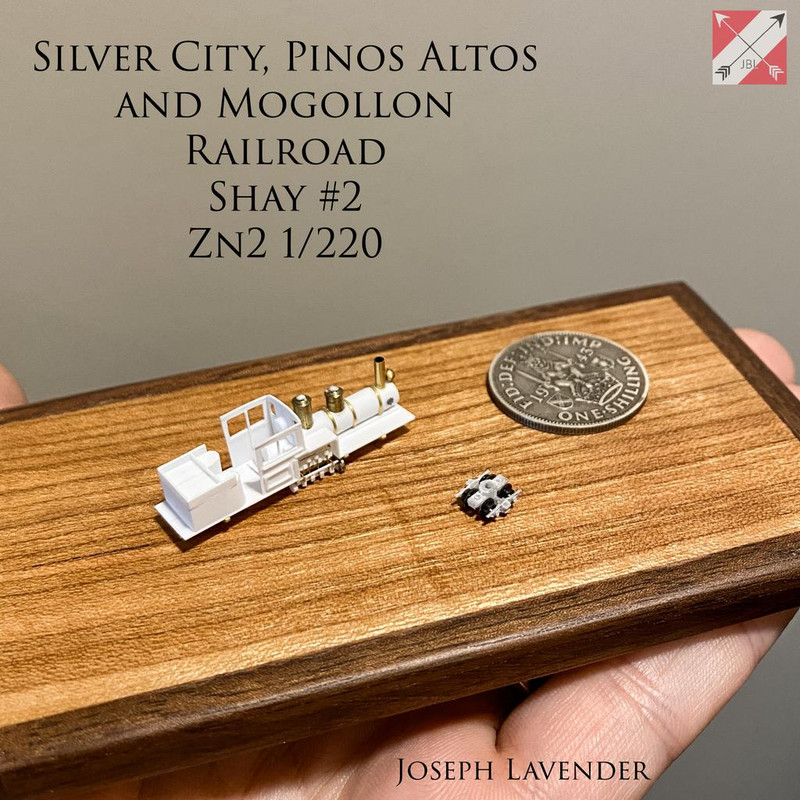 As it stands now, I'm ready to start major construction.

I'd certainly welcome input from anyone who has information on the SCPAM.
I've read Mr. Ericson's book, and it's absolutely invaluable!

I'd welcome modern photos of the area if anyone has them.


We own a summer home north of the line up near Acoma Pueblo,
so I'm very familiar with the lay of New Mexico,
but contemporary photos would be great.

I need to get down there next time I'm in NM and see the old right-of-way,
and of course welcome a travel buddy if anyone lives in the area.


More updates to come shortly!

J.